All the Rides, Attractions, and Food Spots Featuring Mario and the Crew
Start your gameplay at Universal Studios this summer and power up at Super Nintendo World—an immersive experience full of the whimsy the world has come to love through Mario, Luigi and friends. This electrifying collection of attractions brings the beloved characters, thrilling adventures and pixel-perfect landscapes of the Super Mario universe to life like never before. With a thrilling Mario Kart ride, a delicious restaurant and interactive games throughout, you might just have an all new appreciation for the larger-than-life characters.
Credit: Mary Carol Fitzgerald

Located just off Mariner's Mile on the Balboa Marina in Newport Beach is Sol Mexican Cocina, where you can sit on their waterfront patio and soak up a beautiful sunset. Inspired by trips down to Baja, the menu is full of fresh and simple dishes made from scratch. "We're a place to kick back and relax—enjoy fresh seafood, specialty tacos and awesome margaritas while taking in the view of Mariner's Mile," says Deborah M. Schneider, executive chef and partner.
Location: Newport Beach
Credit: Ariane Moshayedi
Situated on Coast Hwy and Bayside Dr, you can only imagine the views that lie behind Tavern House Kitchen + Bar. Spoiler alert: you get some of the best in all of Newport Beach! "The most striking thing is that Tavern House is elevated a half-story above the ground level. Everyone has a completely unobstructed view of the harbor and the canals," explains Chef David Wilhelm. With sunny Newport Beach weather, the atmosphere is warm, welcoming and relaxed—regardless of the time of day. With a covered patio and operable windows, the open-air bay breeze is truly unbeatable. "Every seat in either room has a harbor view! That's the strongest aspect about the location," describes Wilhelm. Dig into seafood-centric dishes along with creative takes on American cuisine. Both the Buddha Bowl (sriracha-spiced basmati rice, a seasonal vegetable medley, heirloom tomatoes, avocado and goat cheese) and the pan-roasted Chilean sea bass (served with mashed potatoes, spinach and a caper and Castelvetrano olive sauce) are not to be missed.
Location: Newport Beach
Credit: The Ritz-Carlton, Laguna Niguel
ake it up a notch and dine at RAYA at the Ritz-Carlton, Laguna Niguel. With Latin American pairings, your senses will ignite with the delicious flavors and the breathtaking views. "RAYA not only features expansive ocean views but also exquisite Pan-Latin coastal cuisine by celebrated Chef Richard Sandoval. Offering breakfast, lunch, dinner and Sunday brunch, the food is unrivaled and allows our guests to enjoy the restaurant any time of the day—all while watching local surfers hit the waves at Salt Creek Beach from sunrise to sunset," says Ritz-Carlton's Director of Food and Beverage, Sheryl Ishizaki.
Location: Dana Point
Credit: Splashes

Sit and dine 25 feet above the water at Splashes restaurant in Laguna Beach. Whether on the patio or inside near the open windows, you're sure to take in the ocean breeze and relax to the sounds of the waves. Fresh and local ingredients make up every dish on the breakfast, brunch, lunch and dinner menus, making the food just as delicious as the view.
Location: Laguna Beach
Credit: Balboa Bay Resort

A+O Restaurant | Bar, short for Anchors and Oceans, is the coastal-chic waterfront gastropub that is waiting for you at Balboa Bay Resort. In addition to a fresh new menu that pays tribute to the waterfront setting, A+O also features an exclusive California Distilled cocktail menu. This menu highlights farmers, small producers, local spirit distillers and purveyors in the Golden State. "At A+O Restaurant | Bar, our guests can sip on craft cocktails in the daytime, and during the evenings, locals can relax by one of three fire pits while they listen to live music on the weekends or create their own tableside s'mores," says Balboa Bay Resort Executive Chef Vic Casanova.
Local Insight: Staying at the Balboa Bay Resort? Guests can enjoy in-room dining 24 hours a day from the comfort of their room or suite.
Location: Newport Beach
Photography Provided By: The Rooftop Lounge
Boasting 360-degree views of the sea, The Rooftop Lounge in Laguna Beach is a stunner. With a gorgeous view of the big blue paired with seafood favorites like shrimp ceviche, spicy fish and chips and piloncillo-morita chili-glazed salmon, you and the rest of your crew are sure to enjoy a memorable meal here. Pro tip: make a reservation and time it perfectly to catch a beautiful sunset.
Credit: The Deck

What's better than a view of the beach? A view on the beach! That's what you'll get at The Deck on Laguna Beach, one of the few waterfront restaurants actually located on the beach. Enjoy the daily catch of oysters or keep it traditional and indulge in a burger. Whichever your preference may be, you're sure to enjoy your meal with a side of ocean breeze.
Location: Laguna Beach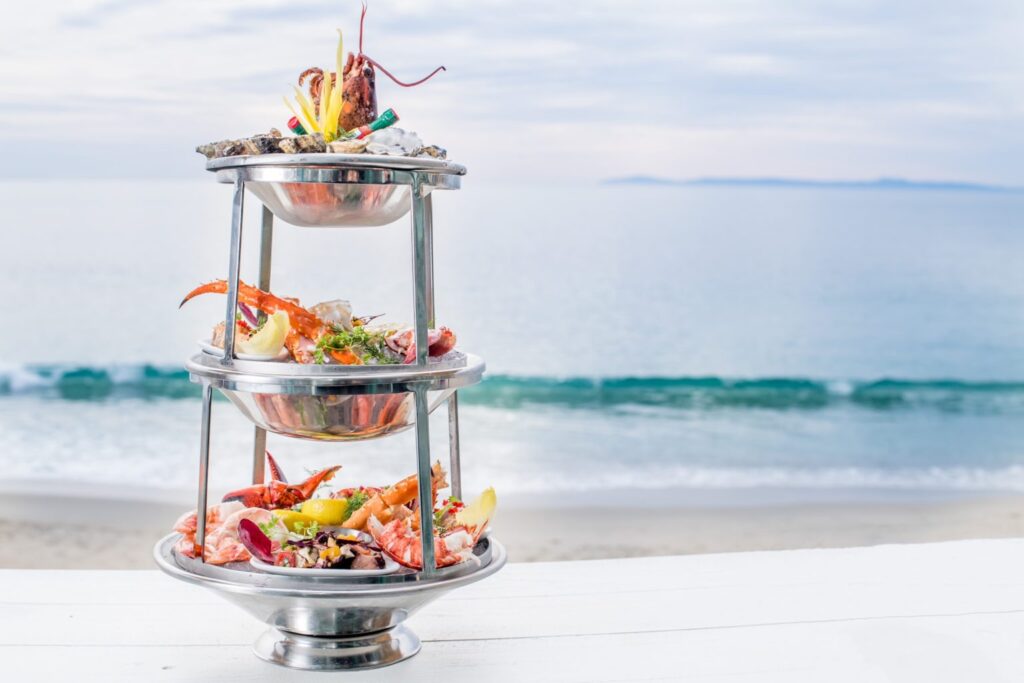 Credit: Anne Watson
Experience fresh, ocean-to-table dining at Driftwood Kitchen, a waterfront restaurant whose slogan is, "Any closer and you would have to swim." If that doesn't give you an indication of the view you'll get, we don't know what does! Try their California-inspired cuisine with seasonal ingredients and, of course, a thing or two from the ocean, such as the yellowfin tuna tartare or grilled spanish octopus.
Location: Laguna Beach
Credit: Mathew Martinez
Get all the fresh air you need at Tanner's, the rooftop restaurant at Paséa Hotel & Spa in Huntington Beach. With a breakfast, brunch, lunch, dinner and drinks menu, the view can be taken in from any time of day. You can also opt to take it up a notch, literally, and go up to Tanner's Treehouse, a rooftop lounge, for happy hour Monday through Thursday, from 4-7 p.m.
Local Insight: Get $8 valet parking for three hours at the Paséa Hotel & Spa with validation when dining at Tanner's.
Location: Huntington Beach
Photo By: Gil Cope
Located in Huntington Beach's beautiful Pacific City, Ola Mexican Kitchen boasts a view of the coastline from almost every seat in the house! But it doesn't stop there: Ola sets the mood with live music and a creative menu that mixes Mexican comfort food with south-of-the-border flair.
Local Insight: Hanging out in Huntington Beach for the day? Pacific City is the perfect stop. Whether eating, shopping or just walking to the beach, all your entertainment needs will be met at this entertainment hub.
Location: Huntington Beach
Credit: Palm + Ocean
Located in the heart of Newport Beach, Bluewater Grill serves as a home to some of the best seafood plates in Southern California. The mecca of high-quality and sustainable seafood, Bluewater Grill even owns and operates its own fishing boat, creating "boat-to-plate" freshness. And if you're out on the bay, it's a great place to dock and dine! Guests have the option to either dine inside or be served aboard their own boat.
Location: Newport Beach
Credit: Mariusz Jeglinski Photography
Watch the waves roll in from above at 180blu at the Ritz-Carlton, Laguna Niguel. "The endless ocean views and stunning sunsets at 180blu make our outdoor cocktail lounge a coveted and favorite spot for locals and visitors alike," says Ishizaki. "Pair our unparalleled views with fresh seafood appetizers, craft cocktails and live music on the weekends, and you'll have the perfect Southern California dining experience."
Location: Dana Point