This San Diego Town Is Bustling With Beachy Vibes
With its surf and skateboard roots, historic wooden pier, tucked-away harbor and nearby former Spanish mission, the coastal city of Oceanside has something for every type of traveler. Between downtown O'Side (as the locals affectionately call it) and its hipper adjoining neighborhood, South O, you'll find local boutiques, craft coffee shops, stellar restaurants and museums, including one dedicated entirely to surf culture. With summer quickly approaching, it's the perfect time to explore this laid-back Southern California beach town. From where to stay and shop to the best places to grab pastries, brews, bites and more, here are eight must-visit places when exploring the up-and-coming city of Oceanside.


Credit: Luis Garcia
Perched atop The Brick Hotel in the heart of Oceanside sits Cococabana, a relatively new concept from the ever-expanding Grind & Prosper Hospitality Group. And when it comes to the perfect spring day in San Diego, this breezy rooftop hideaway is everything and more. Between the boho-chic furniture that adorns the open-air space to the tropical wood accents, pastel pink hues and suspended vines that hover above, this Caribbean-style cocktail bar is an oasis for sunshine, socializing and stiff drinks that'll set your watch to island time. Take in views of the Pacific and downtown Oceanside as you sip on a signature Cococabana cocktail like the refreshing O'side Rider made with tamarind- and chile-infused mezcal, watermelon, mint and fresh lime. If you're feelin' frisky, opt for the Miami Pound Machine, which features tequila reposado, passion fruit, orgeat, fresh lime, saffron bitters and a black rum float! You'll want to pair that baddie drink with something to eat, and Cococabana's menu of shareable plates does not disappoint—we l-o-v-e the pulpo ceviche and jerk butter charbroiled oysters. And when the sun begins to dip, you bet this rooftop bar turns up the beats. Catch DJ sets on the weekends and stay tuned for upcoming events like their First Weekend of Summer Party (details to come)!
Local Insight: Don't miss Cococabana's thirst-quenching bottomless brunch, served Saturdays and Sundays from 11 a.m. to 1 p.m.
 
Credit: Mary Carol Fitzgerald
Stroll down South Coast Highway to small-batch craft distillery Pacific Coast Spirits for lunch, dinner or just drinks. The award-winning purveyors of fine spirits scooped eight medals from the American Distilling Institute last year and San Francisco World Spirits awards this year, including Double Gold in both Gin and American Single Malt categories. The distillery's restaurant and tasting room have a craft cocktail list that spans light and refreshing to spirited and boozy–plus three bourbon barrel-aged numbers and house favorites like the Sand Dollar. "All of our ingredients are sourced from the Pacific Coast—from Oregon to Baja, Mexico—to create one-of-a-kind craft spirits that taste and feel adventurous," says founder and head distiller Nicholas Hammond. Pair one of their craft cocktails with some California-inspired dishes from the menu; top picks include the blue corn dusted fried cauliflower tacos, seared ahi bowl with jalapeño rice, New York strip steak and frites with truffle fries and a mint and orange zest dressed beet and burrata salad. And if the food and spirits aren't enough to get you here, the breezy, industrial-meet-farmhouse interior surely will. Sit back and listen to weekly live music in the distillery's comfortable leather chairs while you sip and enjoy an ocean breeze through the aired glass garage windows. It doesn't get better than this!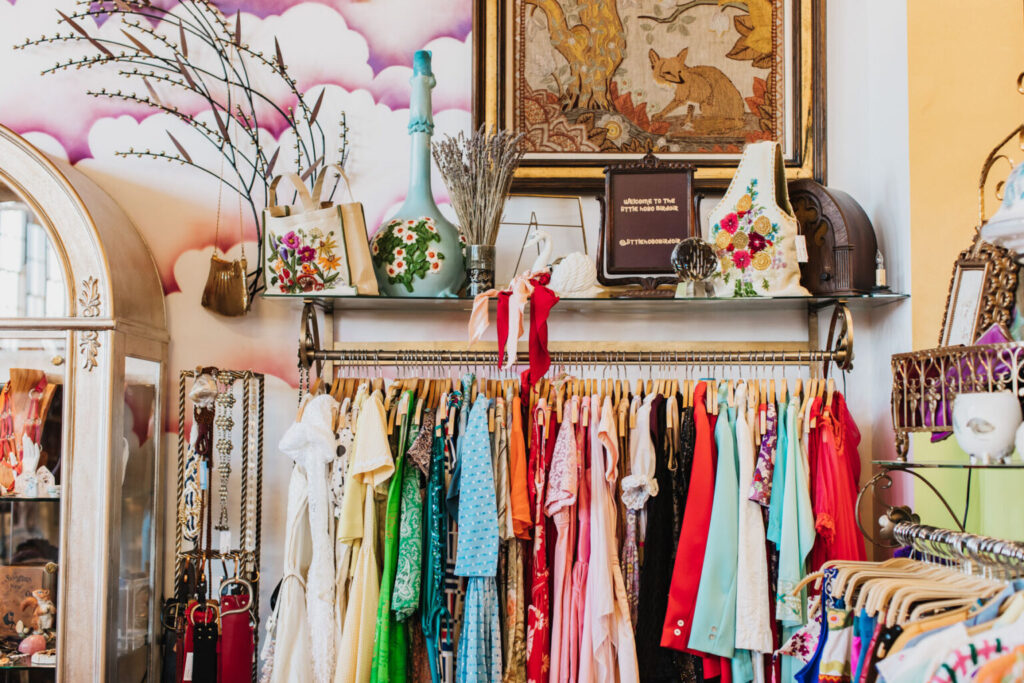 Credit: Stacy Keck

Find the perfect pre-loved pair of cowboy boots or that must-have piece of midcentury modern furniture at this antique store-meets-leveled-up thrift shop. More than 100 vendors have packed their respective booths with treasures for every taste and price point: ​​think California-inspired home goods at Collective Chic Decor, turquoise squash blossom necklaces at Laurel's Fine Vintage Jewelry and vacation threads at Our Travels. Swing by Golden Wood Studio for candles, plants and locally made botanical body products. Feeling more rock 'n' roll? Oldfield Vintage has everything from '80s skater gear and vintage band tees to Western boots and belt buckles.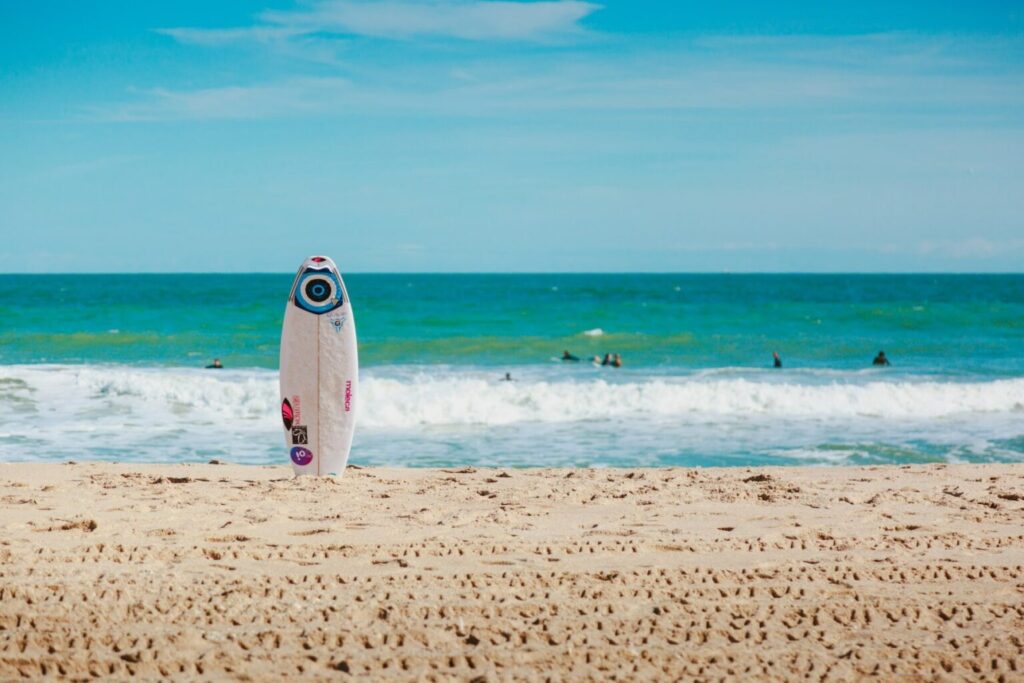 Credit: Lacie Slezak on Unsplash
With a nod from the Encyclopedia of Surfing as "one of Southern California's most consistent surf spots," it makes sense that there's a museum dedicated to the sport of wave riding in Oceanside. Permanent exhibits feature an old Al Merrick-shaped board of 11-time world champion Kelly Slater, plus the one Bethany Hamilton rode when a shark attacked her on Kauai. Visitors can geek out over the evolution of the boogie board, science behind swell direction or surf memorabilia and artifacts that chronicle early days surfing to present day. Exit through the gift shop for souvenir tees, totes, mugs and pins.
Credit: Jasmine Fitzwilliam, @letsfrolictogether
Hop in the car (or borrow an e-bike from Mission Pacific) and zip down to mixed-use lifestyle destination Tremont Collective. Shop apparel and accessories by Oceanside's homegrown streetwear brand, Brixton (most famous for their fedoras and on-trend again '90s-style bucket hats), or pick up a new stick at Atacama Surf Shop. Also home to cafe-meets-curated home goods store Communal Coffee and Bottlecraft (purveyors of fine brews), you can also sit down with a caffeinated beverage or grab some craft beers and bar snacks for later at this buzzy small business co-op.
Credit: Mission Pacific
With its rooftop pool, see-and-be-seen eateries (including "Top Gun" house-turned-dessert bar, Charlie's) and effortless "California cool-meets-bohemian chic" aesthetic, Oceanside's brand new Mission Pacific Hotel instantly made an impression after swinging open its doors in the spring of last year.From the lobby to its 161 guest rooms, the wow-factor here never stops. Artwork curated by the Oceanside Museum of Art is featured throughout while high-touch accents lend a luxe residential feel. Pro tip: book the coveted top-floor Ethereal Suite for those prime sand, surf and dreamy West Coast sunset views.
Photography By: Will LeFevre
From Mission Pacific, it's a five-minute walk around the corner to Camp Coffee Company, where the grilled cheese and Tribute Latte are sit-down must-tries. But thanks to their handy Square site, you can also pre-order that coconut nitro with cold foam and vegan donut while still snuggled up in your hotel bed.
Photography Provided By: Tomoko H. Matsubayashi
Everything from Insta-worthy Monstera and fiddle leaf figs to ficus share space with candles, art prints and artisan ceramics at your fingertips at Landmark Plant Co., a boutique nursery-meets-modish gift shop. The space also holds events like succulent terrarium workshops and provides on-the-spot advice to newbie plant parents. Shop their lush collection of greenery and prepare to be wooed!
Credit: Mary Carol Fitzgerald
Oceanside's The Rising Co. is a coastal community hub, a multi-use retail concept, coffee shop and coworking loft all wrapped into one communal space. "The versatility of the space works because it reflects the community," says co-owner Julie Ellis. Here, you can shop swoon-worthy goodies from designers and makers, including bags by Rais Case, homewares from Adobe by Jess Vargas and jewelry by Wild Habit. A gallery, floral design company and clean beauty brands ÉPHÉMÈRE and The Nada Shop are also featured here.